"Retirement" brings a Bounty of Beautiful Blessings
Share this page: Facebook LinkedIn Twitter
On Feb 1st of 2021, I took the leap into "retirement".
For 25 years I was blessed with a full time job as a Washington State Employee. In 2007 we opened the doors to greet our lovely guests at Carbon Country's Shady Rest Bed and Breakfast. The year 1997 we were honored into the grandparent club with the birth of our oldest granddaughter. The years between '97 and 2016 blessed us with ten more grandchildren along with one great grandchild.
Lately I have been reflecting on all of the wonderful blessings my husband and I have experienced over the last years. We have been privileged to host guests from all over the world in our "mini hotel" here in Carbon Country.
Meeting, greeting and interacting with our guests has developed into numerous cherished friendships. I now am lucky enough to be a "full time" Bed and Breakfast hostess and absolutely love it! Having lived in the area all of my life I am able to share experiences, travel tips, and overall information in order to enhance our guests experiences and it is truly awesome. I am so grateful.
Next of course is the treasure of our grandchildren. Our home and business on 3 fenced acres, allows eight of the twelve to easily pop in for a visit via the foothills trail across the street. When I am not interacting or hosting guests, I cherish the time and experiences with these awesome kids.
Last week myself, and three little boys between four and five benefited from a short hike up to "the creepy house" ( The boys' reference to an old stone building used by the coal miners at the turn of the century). This little adventure blessed me with questions, exhilaration and a wonderful opportunity to share and teach them about the history of our area.
I guess what my reflections have concluded is that Blessings are Bountiful if we take the time to notice.
Wishing you all a Bounty of Beautiful Blessings!!!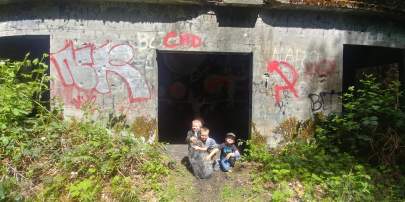 Come Visit us at Carbon Country's Shady Rest Bed and Breakfast
Add comment