Hello and Welcome
to
Carbon Country's Shady Rest Bed and Breakfast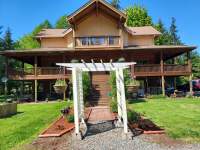 A picture is worth a thousand words, right?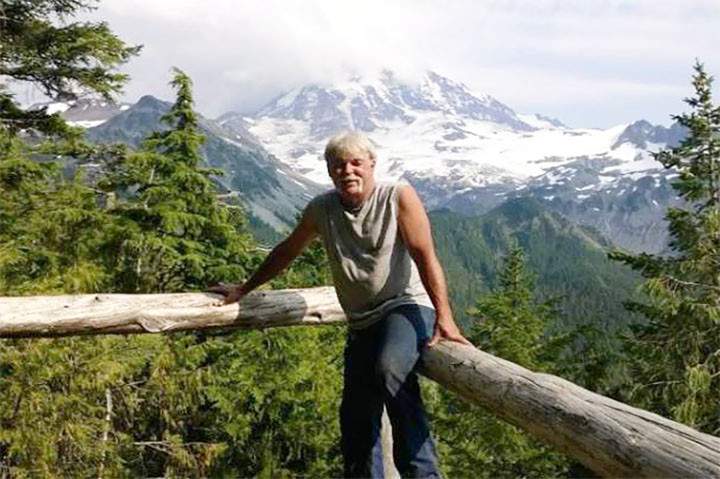 Mark enjoying a day hike to Spray Falls at Mount Rainier.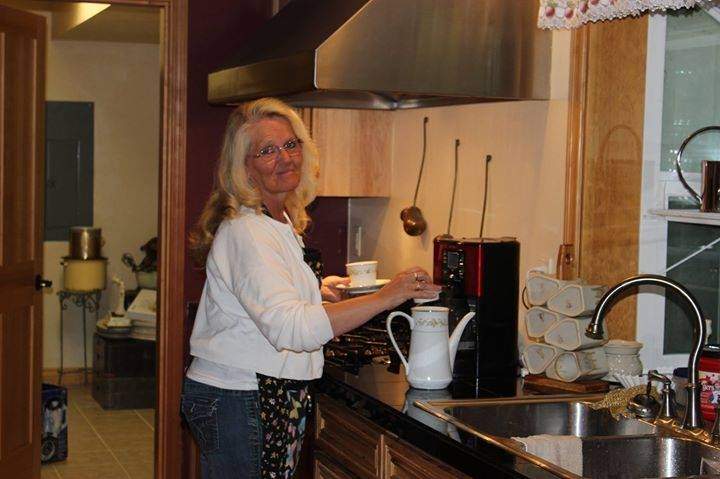 Love my time in the kitchen preparing for our lovely guests.
Click here to see our Gallery
I have lived in the Carbonado area for 50 plus years. Mark, Born in the great state of Texas, made Washington his forever home in 1997.
As a child, my parents were heavily involved in the music industry around the local Seattle area. My Dad was the leader of his own band, The Country Deputies. Typing out song books, keeping the finances in order and writing schedules were amongst my mom's many duties during these years.
Numerous evenings were spent hosting dinners and/or practice sessions in our home in Carbonado. Weekend "gigs" at one of the local clubs or taverns usually followed these hosted events.
My experiences growing up amongst a family owned business was extremely influential in developing my passion for the customer service industry.
My first personal experience in hospitality was at 15 years of age. I was provided the opportunity to work as a waitress, cook, dishwasher, and hostess at a local steakhouse.
The Road to Bed and Breakfast Ownership
For the next 30 plus years, employment outside of raising four children and running a household, continued to gravitate toward hospitality and the food service industry.
In 1996, as a single working woman raising four children, I met my husband Mark Wright. Together we discovered the joy and love of hosting family and friends. Even strangers brought by other guests, soon became long time friends. Regular weekend dinner gatherings, holiday parties, camping trips, horseback riding excursions etc. soon found us outgrowing our small 1300 square foot home. None the less, we loved every minute hosting those in attendance..
In 1999, the dream of owning our own hospitality business began to develop.
We shared a mutual love of the outdoors, horseback riding and hosting guests. This led to the purchase of a three acre raw parcel of land just outside of Carbonado in 2001.
For the next five years, what had been a dream soon became a reality. It began with obtaining custom building plans, permits, and the digging of a well. Shopping antique stores, gathering furnishings and traveling to other bed and breakfasts, became part of our weekend rituals.
Finally on October 1, 2007, Carbon Country's Shady Rest Bed and Breakfast was born. Mark and I both continued to work at our full time jobs until I retired in February 2021. It was then I officially became a full time bed and breakfast owner.
Living on site continues to provide the opportunity to host family and friends as we did back in the old days. As an added bonus, we are now blessed to host guests from all over the world
Mark and I invite you to join us on our wonderful journey.
We both look forward to welcoming you to Carbon Country's Shady Rest Bed and Breakfast soon!
Thank you,
Shelley and Mark
"Shelley was amazing! We had the Victorian room and it was exactly as advertised. It was very clean and roomy. It did have a full bed, which we didn't mind and knew ahead of time from the website. The bathroom did not have a shower, only a claw tub with a shower head hooked up to the tub. I am not a bath person, but it was so spotless I didn't mind. Breakfast was delicious and the other guests were very friendly. We had a wonderful time and recommend this place to anyone looking to stay near Mt Rainier."
Pat and John, San Diego, CA
"The Shady Rest B&B was a great experience for us.The Shady Rest B&B was a great experience for us...."
The place was clean and nicely decorated, the location was great, and the service was great too — and the breakfast. Our host, Shelley, was very personable and accommodating, putting out some treats and wine even with our late arrival. We definitely "slept tight." The breakfast the next morning, including French toast with a strawberry cream cheese stuffing, was very tasty. This is a great place for those planning a trip into Mt. Rainier National Park. It's 20 miles from the Mowich Lake trailhead (and the last 16 miles or so are on gravel road). Get your creature comforts here before you head out for a nice long hike. "Nice place to stay" 5 of 5 stars "
Mike and Sarah